PASMA Towers for Users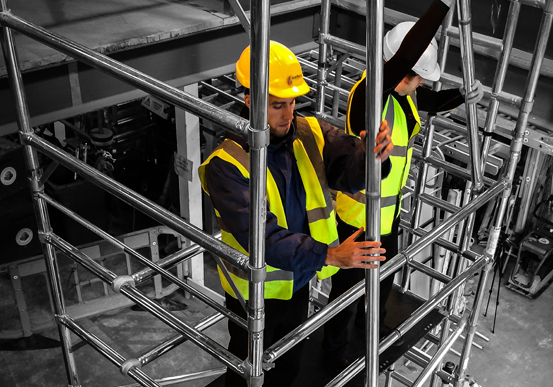 Course aims
Mobile access towers are a common sight across the construction industry. PASMA Towers for Users will equip delegates with specialist knowledge on how to work safely with mobile access towers. Delegates on the course will learn:
How to safely assemble, dismantle, alter and move mobile access towers
The safe use mobile access towers
How to inspect mobile access towers
The hazards relating to access tower use
The legislation, regulations and guidance that are applicable to these towers
This course is designed for operatives and if you're new to towers or tower training, Towers for Users is the ideal starter course. This course complies with EN 1004.
PASMA Training certificate
A PASMA Photo Card and certificate will be issued to successful delegates. The certificate is valid for 5 years. Lost Photo Cards can be replaced at a cost.
What is covered?
Through a combination of theory and practical at work, delegates will learn about:
Work at height responsibilities of employers, employees and suppliers
Standards affecting the manufacture and use of mobile access towers
Where to find crucial safety information
When it's safe to use a mobile access tower, and when it's not
Carrying out pre-use checks and post-assembly inspections on mobile access towers
Assembling and dismantling a mobile access tower using 

3T and AGR

 
Good practices for the safe use of mobile access towers
Accessing a platform safely
Moving a mobile access tower
The components used in a mobile access tower
Identifying hazards in the work environment
Avoiding personal health hazards
When and where?
Courses can be arranged on request for large groups, or delegates can join a prearranged course if there are fewer numbers. Please contact us to request a date. We ask all delegates to arrive at 8:00am on the course date so that the training can start on time.
Most of our training is delivered at our City Depot in Canning Town, a few minutes walk from Star Lane DLR station. The full address and contact information are available here. However training is also available at our other depots based in Croydon and Wembley, or we can delivery training at your place of work, please contact us for further details.
On-site training course requirements
We can offer this course at your place of work if it is in the London area. For this option the venue must be large enough to accommodate all of the delegates with the maximum being 12 people. The venue must also be clean, warm and dry, PASMA courses require an space large enough to to erect a tower. Towers can be hired for the event.
Be aware that if these requirements are not met, we may be unable to offer the training course and you will be liable for the full cost.
Duration
This course is delivered over 1 day.
How many people?
We can accommodate up to 12 people on each course.
What do I need to bring?
Each delegate will need to wear steel-capped boots, gloves, a high-viz jacket or vest and a hard hat. This equipment is available to buy from us on the day, but we cannot guarantee that the correct size will be in stock.
How is it assessed?
The course is assessed by:
Theory assessment which is multiple choice with a 80% pass mark.
Practical assessment – all delegates will take part in erecting a tower.
The training instructor will provide an electronic or printed copy of the course notes for future reference.
On successfully completing this course, delegates will receive a PASMA Photo Card and Certificate.
How much does it cost?
Prices vary depending on the number of delegates, get in touch to receive a quote.
Get in touch and booking details
You can receive further information and a quote by completing the form under the 'Book this course' tab, or by emailing us at [email protected] or call 020 7232 5640